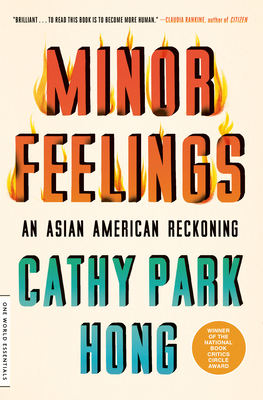 Minor Feelings: An Asian American Reckoning
Publication Date:
March 2nd, 2021
Usually Ships in 1 to 5 Days
Description
NEW YORK TIMES BESTSELLER • PULITZER PRIZE FINALIST • NATIONAL BOOK CRITICS CIRCLE AWARD WINNER • ONE OF TIME'S 100 MOST INFLUENTIAL PEOPLE • A ruthlessly honest, emotionally charged, and utterly original exploration of Asian American consciousness
"Brilliant . . . To read this book is to become more human."—Claudia Rankine, author of Citizen
In development as a television series starring and adapted by Greta Lee • One of Time's 10 Best Nonfiction Books of the Year • Named One of the Best Books of the Year by The New York Times, The Washington Post, NPR, New Statesman, BuzzFeed, Esquire, The New York Public Library, and Book Riot
Poet and essayist Cathy Park Hong fearlessly and provocatively blends memoir, cultural criticism, and history to expose fresh truths about racialized consciousness in America. Part memoir and part cultural criticism, this collection is vulnerable, humorous, and provocative—and its relentless and riveting pursuit of vital questions around family and friendship, art and politics, identity and individuality, will change the way you think about our world.
Binding these essays together is Hong's theory of "minor feelings." As the daughter of Korean immigrants, Cathy Park Hong grew up steeped in shame, suspicion, and melancholy. She would later understand that these "minor feelings" occur when American optimism contradicts your own reality—when you believe the lies you're told about your own racial identity. Minor feelings are not small, they're dissonant—and in their tension Hong finds the key to the questions that haunt her. 
With sly humor and a poet's searching mind, Hong uses her own story as a portal into a deeper examination of racial consciousness in America today. This intimate and devastating book traces her relationship to the English language, to shame and depression, to poetry and female friendship. A radically honest work of art, Minor Feelings forms a portrait of one Asian American psyche—and of a writer's search to both uncover and speak the truth.
Praise for Minor Feelings
"Hong begins her new book of essays with a bang. . . .The essays wander a variegated terrain of memoir, criticism and polemic, oscillating between smooth proclamations of certainty and twitches of self-doubt. . . . Minor Feelings is studded with moments [of] candor and dark humor shot through with glittering self-awareness."—The New York Times
"Hong uses her own experiences as a jumping off point to examine race and emotion in the United States."—Newsweek
"Powerful . . . [Hong] brings together memoiristic personal essay and reflection, historical accounts and modern reporting, and other works of art and writing, in order to amplify a multitude of voices and capture Asian America as a collection of contradictions. She does so with sharp wit and radical transparency."—Salon
Praise for Minor Feelings: An Asian American Reckoning
"[A] formidable new essay collection . . . I read Minor Feelings in a fugue of enveloping recognition and distancing flinch. . . . [Cathy Park] Hong is writing in agonized pursuit of a liberation that doesn't look white—a new sound, a new affect, a new consciousness—and the result feels like what she was waiting for."—Jia Tolentino, author of Trick Mirror
"Minor Feelings is a major reckoning, pulling no punches as the author uses her life's flashpoints to give voice to a wider Asian American experience, one with cascading consequences."—NPR
"Hong dissects her experiences as an Asian American to create an intricate meditation on racial awareness in the U.S. Through a combination of cultural criticism and personal stories, Hong, a poet, lays bare the shame and confusion she felt in her youth as the daughter of Korean immigrants, and the way those feelings morphed as she grew older. From analyzing Richard Pryor's stand-up to interrogating her relationship with the English language, Hong underscores essential themes of identity and otherness."—Time
"Cathy Park Hong's new memoir confronts the tough questions of Asian American identity. Drawing its title from Hong's theory regarding the impact of racial stereotypes and lies on ethnic minorities, this memoir-in-essays is a must-read at a time of rising racist violence and distrust."—Bustle
"An incendiary nonfiction book about a pressing social issue of the day . . . With its mix of the personal and political, Minor Feelings is the kind of trenchant social critique that's bound to get people talking."—BuzzFeed
"Hong busts out of the closed loop of Asian American discourse and takes off at a run. It's not that she doesn't address the model minority myth, the brutality of casual racism, or the mortifications of a first-gen childhood; she writes passionately about how Asians are dismissed, the lowly 'carpenter ants of the service industry.' It's just that she also makes every 'immigrant talking point,' as she calls them, viscerally specific. . . . Hong's essays make a case for solidarity that begins at self-awareness."—GEN
"At-times funny, often deeply thought-provoking work . . . Minor Feelings is an urgent consideration of identity, social structures, and artistic practice. It's a necessary intervention in a world burgeoning with creativity but stymied by a lack of language and ability to grapple with nuance. Hong takes a step in remedying that."—Chicago Review of Books
"Self aware and relentlessly sharp essays. Nimble, smart, and deliberate, Minor Feelings is a major conversation starter."—Marie Claire
"With radical candor, Cathy Hong Park critically examines what it means to be Asian American today and challenges herself and her readers to abandon the idea of a monolithic Asian American experience and instead acknowledge a range of racialized emotions which have been heretofore dismissed."—Ms.
"Part memoir, part cultural criticism, the poet and essayist's Cathy Park Hong's first book of prose had me underlining and annotating nearly every page."—R. O. Kwon, Electric Literature