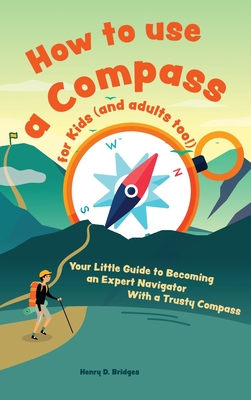 How to use a compass for kids (and adults too!): Your Little Guide to Becoming an Expert Navigator With a Trusty Compass
Publication Date:
June 3rd, 2021
Publisher:
Admore Publishing
Usually Ships in 1 to 5 Days
Description
The fantastic little guide to learning how to use a compass
Today, we primarily use these tiny computers called cellphones that fit in our pockets to help us navigate. It's never been easier to know exactly where you are and find a route to where you want to go. Still, these fancy computers can have their fair share of problems. Batteries run out of charge, GPS lose signal outside of cities, and they can run out of data...
This is where this fantastic yet simple tool comes in handy.
Yup. You guessed it... a compass
Although we rarely use this awesome little gadget nowadays, it truly changed the world. Best of all, a compass can always be relied on to help you find your way around no matter where you are
This creative guide has everything to help the little explorer in your life learn how to use a compass.
Learn the How-To's and become an expert navigator.
The exciting history of this magical device.
Compass anatomy explained.
Filled with helpful tips, tricks, and interesting facts.
Suitable for young and old explorers ages 10 and up.
Learning how to use a compass is incredibly helpful, even today. It's also tons of fun as you get to experience the outdoors and learn in a creative way. So treat the adventurer in your life (big or small), and grab this fun guide now