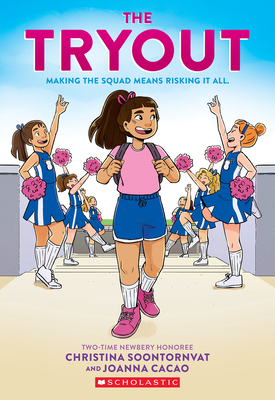 The Tryout: A Graphic Novel
Publication Date:
September 6th, 2022
Usually Ships in 1 to 5 Days
An utterly captivating graphic memoir about middle school, competition, friendships, and growing up Asian American in a mostly white community. This is a book every middle grade reader (and many adults) will want to read over and over.
September/October 2022 Kids Indie Next List
Description
STAND TALL.
BE LOUD.
GAME FACE ON.
This pitch perfect graphic memoir about courage and competition, friendship and belonging is perfect for fans of Smile, New Kid, Rollergirl, and Real Friends.
"A captivating middle-grade gem." — The New York Times Book Review
★ "Funny, relatable, and genuine." — Kirkus Reviews, starred review
★ "Captures every nuanced emotion." — School Library Journal, starred review
★ "Genuinely nail-biting." — Publishers Weekly, starred review
★ "Cringe-worthy in the best possible way…inspiring and insightful." — Shelf Awareness, starred review
"Delightfully expressive…a standout." — Booklist
"Illustrated and told in a way that every middle school student can relate to. Captures the poignancy of the emotional rollercoaster that [they] experience every day." — School Library Connection, recommended
When cheerleading tryouts are announced, Christina and her best friend, Megan, literally jump at the chance to join the squad. As two of the only kids of color in the school, they have always yearned to fit in—and the middle school cheerleaders are popular and accepted by everyone. But will the girls survive the terrifying tryouts, with their whole grade watching? And will their friendship withstand the pressures of competition?
Hilarious and highly relatable, The Tryout by two-time Newbery Honoree Christina Soontornvat and shining new talent Joanna Cacao will make you laugh, cry, and cheer!
Praise for The Tryout: A Graphic Novel
"The plot alone is enough to keep young readers flipping the pages. (I held my breath when the final roster of cheerleaders was announced.) But like all good books about growing pains, this captivating middle-grade gem contains many moments that will resonate with young and old alike." — The New York Times Book Review
★ "This superlative graphic memoir is a funny, relatable, and genuine story of friendship and belonging. . . . The jokes, daydreams, and quips are delightful without overshadowing or diminishing the impact of [Christina's] experiences with racism and exclusion. The attractive, expressive illustrations feature clean lines and bright colors. A funny, painfully honest look at a middle schooler finding her way." — Kirkus Reviews, starred review
★ "Soontornvat's lived and emotional experiences come through loud and clear….Cacao's manga-inspired artwork captures every nuanced emotion. . . . Readers of this empowering graphic memoir will want to invite Christina to sit at their table to share food, stories, and the secrets to self-confidence." — School Library Journal, starred review
★ "Soontornvat's denouement is genuinely nail-biting, and the girls' earnest love for cheerleading is infectious, despite their experiences with outward prejudice. Via emotive close-ups, Cacao confidently conveys the girls' persistence, fluidly injecting their athletic pursuits with lively energy using bright color palettes and varied character design." — Publishers Weekly, starred review
★ "Soontornvat's memoir is cringe-worthy in the best possible way. . . . brought to life with gorgeous illustration from self-taught comic artist Joanna Cacao. . . . The Tryout is an inspiring and insightful graphic memoir for anyone who simply wants to fit in." — Shelf Awareness, starred review
"The art is delightfully expressive, and the characters' personalities shine in each panel. A standout addition to any graphic autobiography collection." — Booklist
"The trials and tribulations that Christina and her friends go through as they try to find their niche in school, including teasing and bullying, are illustrated and told in a way that every middle school student can relate to. The story is told with a sense of humor and captures the poignancy of the emotional rollercoaster that students in middle school experience every day. . . . The illustrations truly enhance the text, giving just enough detail to fill in the events without being distracting or detracting from the story being told." — School Library Connection, recommended
"The Tryout beautifully captures the struggles and pressures of wanting to fit in. As a fellow Thai-American, Christina brought a tear to my eye." — Dan Santat, New York Times bestselling creator of The Aquanaut